Microsoft Inspire 2020 kicked off today few hours ago and it is up and running live now and there were some great announcements came through so far from the sessions. I will be going to cover some of the announcements that I was able to capture today for the benefit of the community.
Aliesha Pulliam and Jeff Dubois started the Microsoft Inspire 2020.
Gavriella Scuster talks about the partnership priorities and the impact which it had from the pandemic and the social injustice issues.
Judson Althoff talks about Purpose driven digital technology innovation to benefit the society.
This is the purpose driven digital diagram which helps us to understand what are the key current demands in society.
Nick Parker thanks to the partners during this difficult time how they have helped the organizations to still continue the businesses.
It's amazing to see the statistics in this year so far.
Also explains the three clouds creating enormous opportunities to the partner ecosystem.
Microsoft Digital feedback loop was explained by Alyssa Taylor.
3rd Party solutions can leverage on Microsoft 365 , Microsoft Dynamics 365 , Microsoft Power Platform and Azure.
These are the ways in which Microsoft modernize the ISV experience.
Great momentum in the ISV Ecosystem.
ISV Market seems to be quite attractive for the next 6 years. And Power Platform seems to be really beneficial for the ISV's in rolling out new solutions quicker to the market as per their needs.
There has been some improvements which has been done by Microsoft in App sources and there are more to come as well.
There are so much opportunities Microsoft Teams brings to the partner ecosystem. Below are the FY21 Teams priorities and partner big bets.
There is so much for the partners to leverage on with Microsoft products. Exciting times for the Partners.
This is the difference which Microsoft has and it is shown in the below image what it can provide you.
Mitra Azizirad walks us through on AI at scale, Autonomous Systems and Microsoft vision for giving everyone to try and use AI.
Some resources about AI for later exploration.
Power BI is unmatched with the capabilities in BI experience.
Customer Insights session was interesting as well I have captured some useful slides from the presentation.
Customer data is key and if you can leverage on that it will be very beneficial for the organizations. Customer Insights give the 360 degree view of your customers.
I did like this slide which gives great overview of the Customer Insights . It's also interested to 50% new customers are coming from customer Insights.
Biggest Announcements
Alysa Taylor was announcing the launching on the Microsoft Cloud for Healthcare. This is for the partners to co-innovate healthcare with Microsoft.
The security is always an important aspect with healthcare and this is what you will get with the platform.
Partners can take the opportunity of the Microsoft Cloud Healthcare as shown below.
Power Platform Related
This new solution Return to Workplace which is rolling out by Microsoft helps organizations when reopening physical locations after the COVID.
Teams Related Announcements
The list of new features announced today for Teams are shown below in the image.
Gallery View up to 49 people maximum.
Together mode and this also scales up to 49 people.
This event make it possible to have virtual Hi5 too.
If you are running late this will be the new way to notify everyone so that you know everyone saw your message.
Send your emojis to your colleagues video , now you can show your emotions to them. This is a really great authentic way to get the sentiment for the group Teams meetings.
Turn on the live captions so you know who is talking.
New feature which can enable the Live transcriptions.
Microsoft Dataflex is another big announcement in Microsoft Inspire 2020. Dataflex will be included to your tenant with Teams licenses and there will not be any additional cost involved with it.
As per Microsoft experts the Dataflex is the subset of features from CDS and will be available in Teams and able to embedded as well. What we know as CDS today with the enterprise capabilities will be called as Dataflex Pro.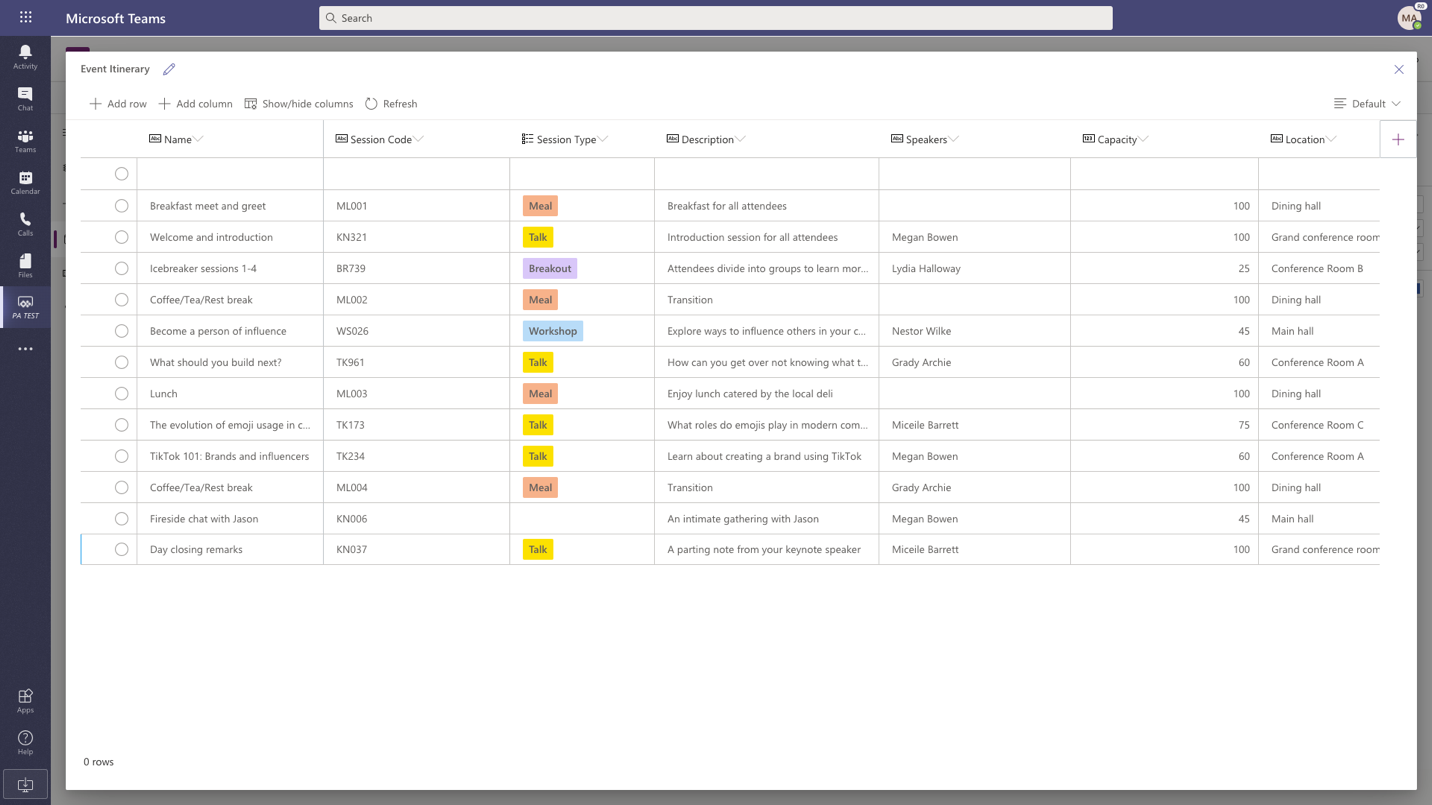 Editing you Power Apps from Teams
Power Virtual Agents in Teams makes it easier for you to build your chat bots easily.
Power BI Inside Teams
Share your reports to the channels that you would like to.
I hope these will help you in day to day use of the Microsoft Products and it's an amazing event #MSInspire and I will continue to update as I tumble across new updates.